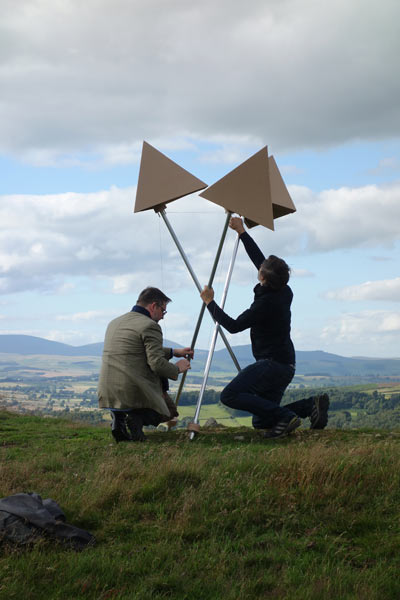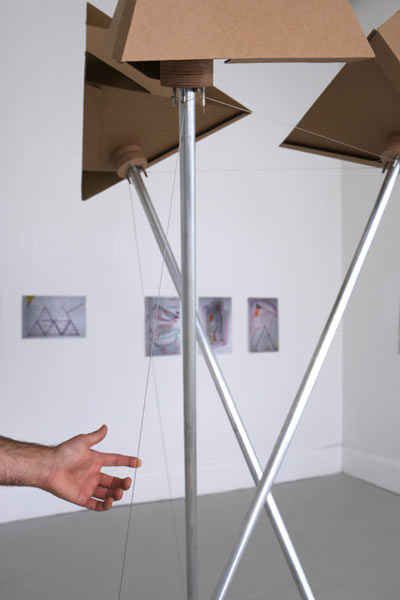 For their show and performance SOFT REVOLUTION at Drop City, Düsseldorf artists Markus Karstieß and Christian Jendreiko use the principle of 'tensegrity', (conceived by Buckminster Fuller and based on the inventions of his student Kenneth Snelson), to develop an original string instrument, two metres in size.
During their performance, Karstieß and Jendreiko will set this 'force diagram in space' this 'helical happening', this 'frozen event, that is lifted directly from the vocabulary of an all-motion universe' (Kenneth Snelson) alongside a set of real-time-actions, drawn thoughtfully from the same source and fixed in a graphic score based on original drawings by Buckminster Fuller for the Buddhist Goddess-Of-Mercy Temple in Penang and the Gliderfoil Pendulum Catamaran.
The performance could be seen as a process of a permanent, but 'soft' revolution, wherein the instrument becomes a tool for the performers and the performers become a tool for the instrument, and coalesced into an interacting and reciprocal centre, collectively demonstrating the innate facility of the universe for organising forces in space.
Please join us on Saturday 1 August 2015 from 2-5pm for live performances of new compositions (Press release, Drop City, at 20 South Street) > Link